Gordon was built by Sir Nigel Gresley at Doncaster Works in April 1922 as an A1 with a GNR eight-wheeled tender and green livery on the Other Railway, but when he arrived on Sodor with a spare boiler and firebox later that year he was painted in the North Western Railway's blue livery.
Gordon is mainly used for passenger duties, pulling the North Western Railway's express, the "Wild Nor' Wester", but has occasionally pulled goods trains: he has been known to run into ditches and stop on hills to get out of doing these jobs, as he believes that these are below him.
In 1939, Gordon went to Crovan's Gate for a rebuild. His conjugated valve gear was replaced by a two-cylinder design, he received a smoother running plate (designed by the Fat Controller), Stanier underframes, "Black-5" wheels, cylinders, squared-off side windows, rectangular buffers and a Fowler-style tender.
Gordon has become famous after his adventures: in 1953 he pulled Queen Elizabeth II's royal train and in 1956 he traveled to London, where he was lauded by a large crowd. Gordon did not like the visit, however, as he discovered that London's big station was St. Pancras.
In 1986, Gordon got to visit Carlisle when a diesel taking a Railtour failed.
He is voice by Tyler3967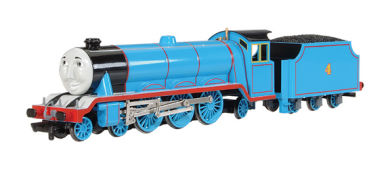 Similar topics
---
Permissions in this forum:
You
cannot
reply to topics in this forum